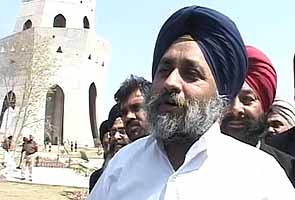 Chandigarh: The Punjab government has sought a interim relief package of Rs. 800 crore from the Centre expressing its anxiety over the drought-like situation in the state caused by a deficit monsoon so far.
The state also sought 1000 mw additional power allocation from the Central pool in lieu of extra money being spent by the state government on purchase of power for the agriculture sector besides additional cost of diesel borne by farmers for irrigation of paddy crop, in view of "deficient and erratic monsoon."
Punjab's Deputy Chief Minister and President of the Shiromani Akali Dal, Sukhbir Singh Badal said the state government has approached Prime Minister Manmohan Singh, Union Agriculture Minister Sharad Pawar and Union Power Minister Sushil Kumar Shinde to immediately come to the aide of Punjab farmers to enable them to fulfill their commitment to make country secure on food security front.
Read More